Aby July 14th, 2007
The United States and China are military adversaries since the Taiwan and North Korea crisis' and despite the present economic partnership, the military differences exist. The CPC government of China follows a policy of minimum credible nuclear deterrence to prevent China from being coerced or blackmailed to submission by the US. However, China's current nuclear stockpile of approximately 200 warheads seems too small against the United States which has a gigantic stockpile of about 5000 warheads. How could China with such a small nuclear stockpile have a MAD (Mutually Assured Destruction) nuclear relationship with US? A calculation of a simulated nuclear war scenario between US and China would help us understand how this balance is maintained, even today.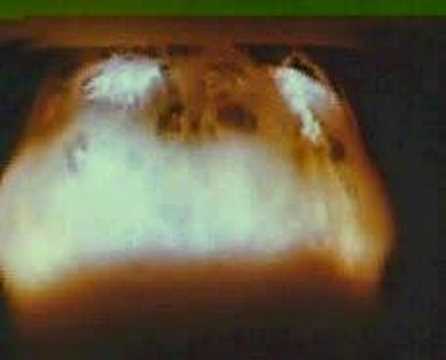 A Chinese 3.3 Megaton thermonuclear bomb tested in 1967 (Click video to play)
China's nuclear force is based on a 'No First Use' policy formulated by its erstwhile President Mao Zedong. This makes sense as China could not launch a first strike against US without facing obliteration in a strike-back by US. The small quantity of nuclear warheads and strategic missiles that China possesses, would make a Chinese attack on US nuclear facilities futile, as China has neither the accuracy of missiles nor the number of warheads required to destroy the all the US facilities. On the other hand United States, with its improvised and highly accurate strategic missiles (Trident and Minuteman) could strike and destroy over 75% of China's nuclear facilities with just about 2-4% of its nuclear and missile arsenal spent. But even in the event of a war; a successful destruction of 75-80% of China's nuclear facilities leaves at least 20-25% surviving, which can be used as a retaliatory attack against the United States. A 100% destruction of China's nuclear facilities would be highly unlikely considering the logistical impossibility of targeting and destroying all of China's mobile and SILO launched nuclear ICBMs.
Since China can't destroy US nuclear facilities, as a retaliatory resort it would strike what hurts USA most - its people. This is primarily the reason why US cities have been targets of Chinese ICBMs for the last few decades. A DF 5A (Dong Feng) missile launched from hardened or mobile SILOs in China's Hunan province will have most of West and Central US in its reach. A 12000 km DF 5 Mod 2 goes even further, including east coast cities like New York and Atlanta in its range if a polar trajectory is followed.
A DF 5A ICBM can carry a 3.5 MT (Megaton) thermonuclear warhead. The 3.5 MT warhead detonated at a height of 2500 meters would have a blast radius of 7 km, exposing 154 km2 of the ground surface to a blast overpressure of 10 psi or higher. In addition to the immediate energy shockwaves of the blast, such a high yield H-Bomb would also cause widespread radiation fallouts and heated firestorms due to the rapid changes in the atmospheric pressure which follow such an explosion. If a single such warhead is detonated over a busy megapolis like New York, Chicago or Los Angeles, at least 1.5 million people would be eliminated immediately during the explosion and a further million within another 72 hours due to radiation burns, sickness and firestorms. If only 5 of the DF 5As are launched against 5 US cities and 4 of them successfully strike the US mainland, more than 10 million people would face extermination.
According to US DoD Reports to the Congress in 2006, a DF5A Mod2 can be MIRVed with 6 warheads of 250 KT each. In such a case, if each warhead detonates 1500 metres above the ground, the total blast radius (@10 psi) of all the six warheads would exceed 21 kms bringing over 1386 km2 under coverage. The fatalities from a single such strike on a city like New York or Chicago would exceed 5 million at the bare minimum. In such a scenario, if 4 of these missiles with 24 warheads strike 4-10 US cities with an accuracy of 83%, at least 14 million people would be annihilated in these cities. This still leaves out the DF 31A ICBMs and JL-1 SLBMs which could strike US targets and further the damage.
From both the cases it can be understood than even a retaliatory second strike by China can inflict severe devastation on the continental US. These are just bare conservative estimates, reality could be much more deadly and devastating with 40-100 million casualties. Chinese military strategists can easily do this calculation themselves and as such it becomes apparent why China is so sure that its relatively small number of ICBMs act as an adequate deterrent against the United States or even India and Russia for that matter. The threat of even a few surviving nuclear missiles hitting the United States serves as a robust deterrent for the United States. China would not consider a first strike either, as it would face total annihilation due to the massive US nuclear and missile stockpile. Thus the MAD balance is maintained between these two countries, one wary of the other despite their significant disparity in nuclear weapons stockpile and delivery systems.
Further Information and Resources -
Military Power of the People's Republic of China 2006 - DoD Annual Report to the Congress
The Effects of Nuclear Weapons
- Glasstone and Dolan, US Dept. of Defense
Possibly Related posts: