Captain Sasha May 30th, 2011
Gaddafi and Mugabe should take classes from Mikhail Saakashvili, the president of Georgia, on how to be a fascist without antagonising the west. Over 2000 people marched on 25th May, 2011 to Freedom Square in Tbilisi, calling for the resignation of president Mikhail Sakhashvili, who came to power after the US sponsored Rose Revolution. Displaying his lack of tact and commitment to democracy, Sakhasvili ordered his troops to crush the protests with violent force, killing 2 protesters and greviously injuring dozens of others.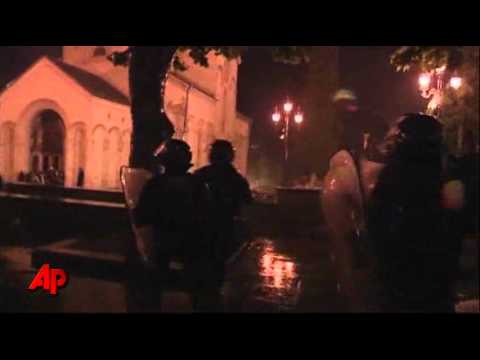 Pro-democracy protests turn violent in Georgia
However, what surprised me was not Sakhashvili's complete disregard for democratic freedoms, but how little the "free press" Anglo-Saxon media covered the protests and the subsequent massacre. The same media did not spare a breath in covering the anti-government protests of Tehran in 2010. The demonstrations against Khomeini and Ahmedinejad were broadcast in CNN and Fox News as 'Breaking News' for weeks. Every near and dear relatives of the victims have been so extensively interviewed and so much tears shed that within a week, Americans were left wondering when the missiles are going to roll for an attack. It appears that to some people, the voices of the Georgian people are not human enough to be heard.
This  could be a lesson for fascists, dictators and terrorists all around the globe - if you become a darling of the United States or happen to be the adversary of a US adversary, you can carry on your tortures, killings and massacres with the blessings of Uncle Sam.
Background Information:
Possibly Related posts: