Aby June 21st, 2007
It is always a prudent move to step down at the peak of your career, especially when the road slopes downwards. The Prime Minister of UK, Mr Tony Blair followed the path which has often been trodden upon by celebrities and sports persons when he decided to resign from his position on June 27, 2007. The Chancellor of Exchequer, Mr. Gordon Brown is expected to take the position in Labour Party which will be vacated by Mr. Blair.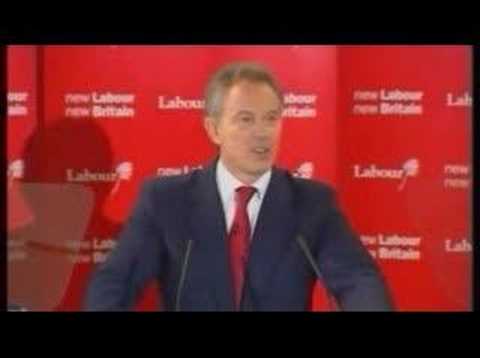 Tony Blair gives his resignation speech at Sedgefield, his constituency in UK (click video to play)

Anthony Charles Lynton Blair was one of the youngest British Prime Ministers in history when he came to power in July 1994. He transformed the look and public perception of the Labour Party with his dynamism and an objective approach towards political and economic issues. He sky-rocketed in popularity, teaming with Gordon Brown and made economic reforms to fit the rapid changes in global business and economic scenario. But the blow came when he decided to stray from the path to support and stand by the US President George W. Bush in his aggression against West Asia, mainly the war and invasion of Iraq. His popularity among the British people failed and despite all tries, he realised there is no chance of his rising back.
He went into an illegal war with a sovereign nation without thinking of the political consequences. While being an open minded and liberal politician himself, he tied up with the narrow agenda and close minded conservatives in US like the 'Yes Men' of Bush's Cabinet. In the long run, UK which was once among the safest countries in the world after World War 2, came in the global terror hit list. The British and Europeans alike, awoke with a rude shock at the serial terror attacks in London on 7th of July 2005, the magnitude of which has been unprecedented since the World War 2 Blitzkrieg by German forces. In the aftermath of the blasts, the British people prudently decided that revenge by killing innocents would only further the damage to world peace. And Blair went down in public popularity despite his widely popular two terms; he could neither win the Iraqis over and nor his own people.
There won't be much tears shed for his resignation but considering his legacy of economic and market reforms in a changing world, he might go down in the history of UK not looking too bad. As the longest serving head of a G8 nation and one of the longest serving leaders of the European Union, Blair has much to his credit in the international arena. He would leave a better impression on the UK and World citizens alike with his wise move at the right time (unlike George Bush who had made himself one of the most hated men in history and his country one of the most disliked nation in the world).
More About Tony Blair
Tony Blair: A Decade in Power - Times
The Blair Years 1997 - 2007 - BBC News Special Report
Possibly Related posts: